NIGHTLY & WEEKLY
PARK MODELS AVAILABLE
Welcome To The Best Little Rv Park in Quartzsite!
Nightly Weekly Short Term Rentals
Clean and Comfy
Kitchens
Separate Bedroom
Free Wifi
Color Tv
Quiet Pets Welcome!
Storage Sheds
MAKE YOUR 2022- 2023 RESERVATIONS NOW
Al's Park
Po Box 2002
510 Riggles Ave South.
Quartzsite, Az 85346
Office 928-662-7043
E-Mail alsrvpark@aol.com
www.alsrvpark.com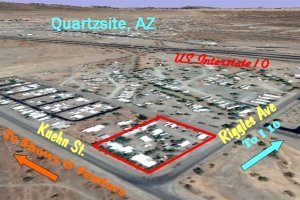 Conveniently located 1/4 mile south of Interstate 10 exit 19 and one mile east of Highway 95 at Kuehn. Two miles east of Interstate 10 exit 17.
Please see Direction Page tab for more detailed directions from all exits.
You will find the accommodations comfortable and clean.
The park is an easy walk to Tyson Wells and Rice ranch, downtown and most events.
Quiet Pets are always welcome and with the BLM across the street, there is plenty of room for them to walk or run!

Free WIFI for Guests.
One guest $70.00 per night
Two guests $95.00 per night
Includes Tax
CALL
928-927-6715
OR
EMAIL
Nightly / Weekly
Monthly
One
Bedroom
Super Insulated
Southwestern Cabin
Private Bedroom
Micro Kitchen
Towels & Linens
Clean and Comfortable
Dec / Jan / Feb
Nightly or Weekly
Long Term Rentals
Please See
Long Term Rentals Page